When you decide to install a tub in your bathroom, you are catapulted into a myriad of solutions. How to choose the most suitable tub for our bathroom?
In this article we will analyze 3 types of tubs: freestanding, built-in and corner.
1. Freestanding Tub
Ideal solution for spacious bathrooms where the tub becomes the protagonist. Regardless of the shape (oval, rectangular, etc.), the central tub can be installed away from the walls giving an elegant touch to the bathroom. Very fashionable in the Victorian age, the freestanding tub can reinforce the retro look in a bathroom with classic features but also give a decisive touch of luxury in a modern bathroom.
From our store:
Clean and elegant design, accentuated by the use of Solid Surface Cristalpant ©, an inert, hypoallergenic and non-toxic material, easy to clean and resistant to impact. Tub recommended for lovers of simple lines and cutting-edge materials.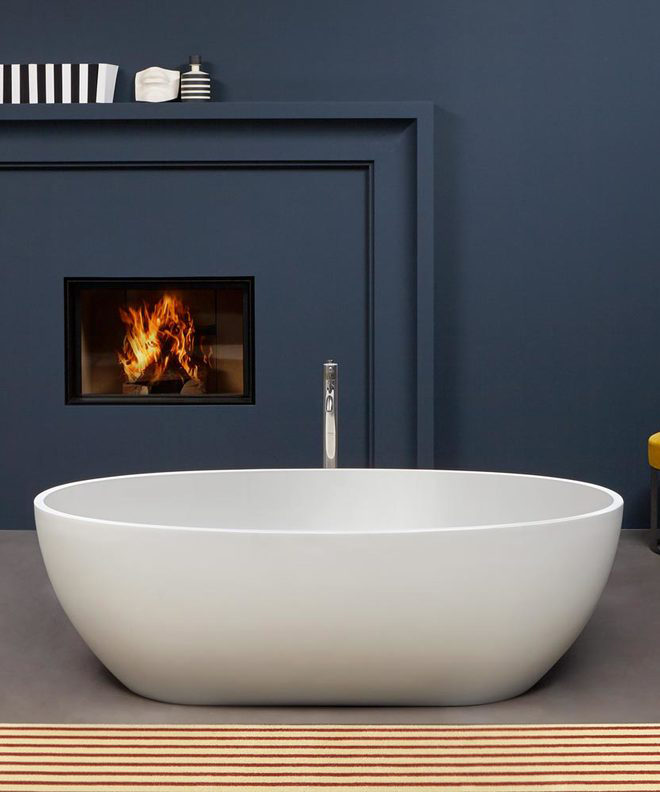 Tub with a contemporary design, able to create a welcoming and strong personality at the same time. The material used is Cristalplant © biobased composed of 50% of minerals and 50% of bio-resin polyester, made of materials of plant origin and completely eco-friendly.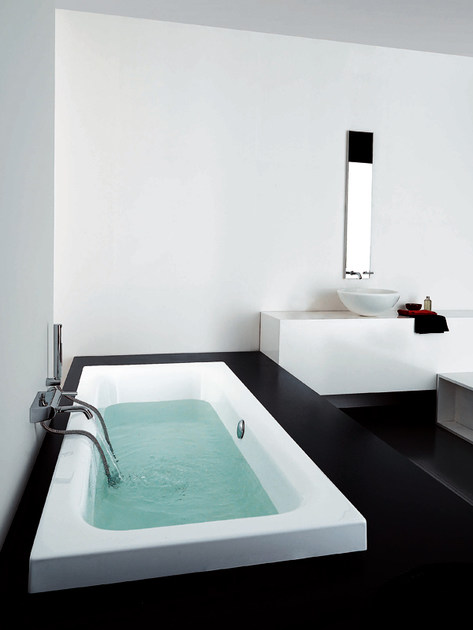 2. Built-in Tub
By choosing the built-in solution you get a homogeneous and pleasant environment, with the tub that adapts to the space without neglecting the aesthetics.
From our store:
From the circular shape, this floor-level tub is the result of a cutting-edge design that combines technique, ergonomics and aesthetics in an ultra-modern bathtub. Available in various hydromassage versions, the tub is equipped with a state-of-the-art cleaning system, chromotherapy, up to 12 whirlpool jets and 24 airpool injectors.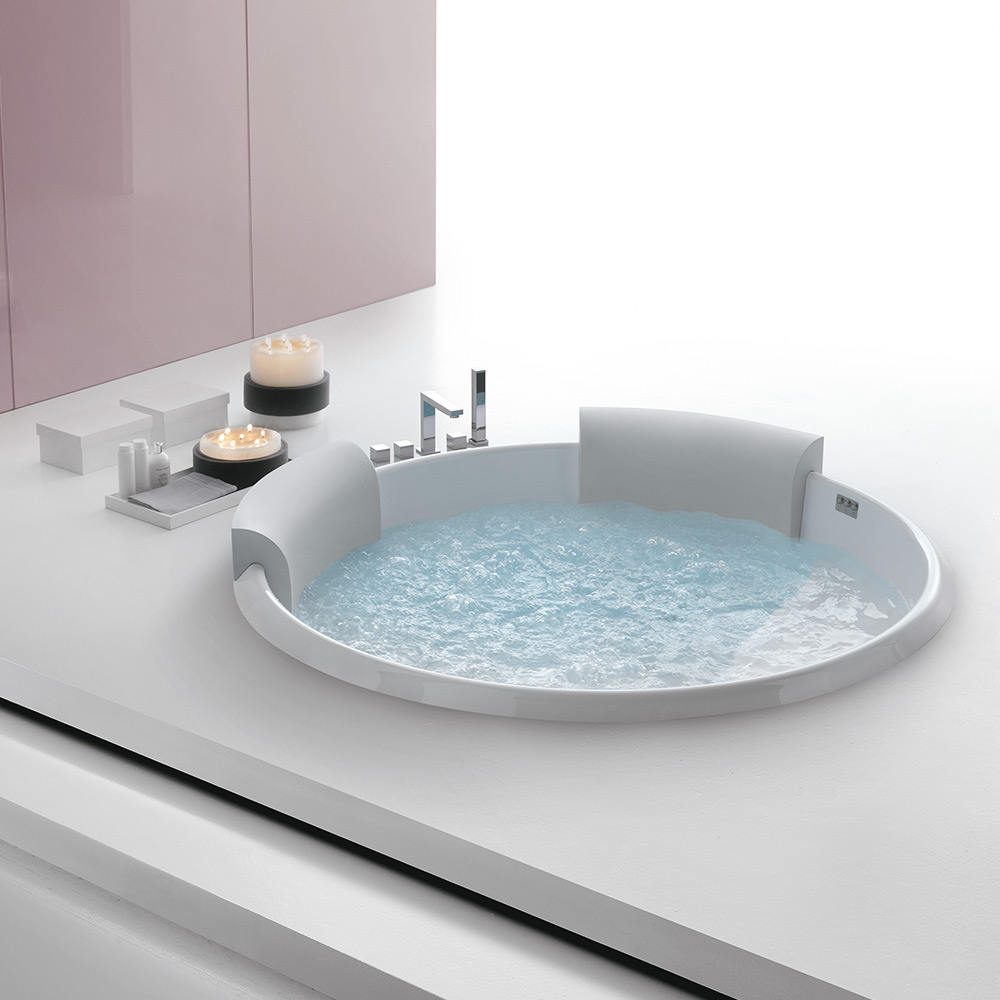 Innovative tub: the engines are positioned on the bottom of the tub, making them invisible by creating a clean design and a contemporary living room. The model is rectangular with rounded corners; the installation is flush with the floor but is also available in the freestanding version.
3. Corner Tub
The most widespread installation mode and ideal for small bathrooms, the corner bath fits the wall and can be paneled and then tiled. This involves endless ways of personalization.
From our store:
Made of Corian, a material characterized by the intrinsic hygiene, the ability to create fluid and sinuous shapes and the ease of cleaning. The tub is rectangular, it is also available in the paneled version, with the panel made of Corian or Hpl Polaris in various finishes.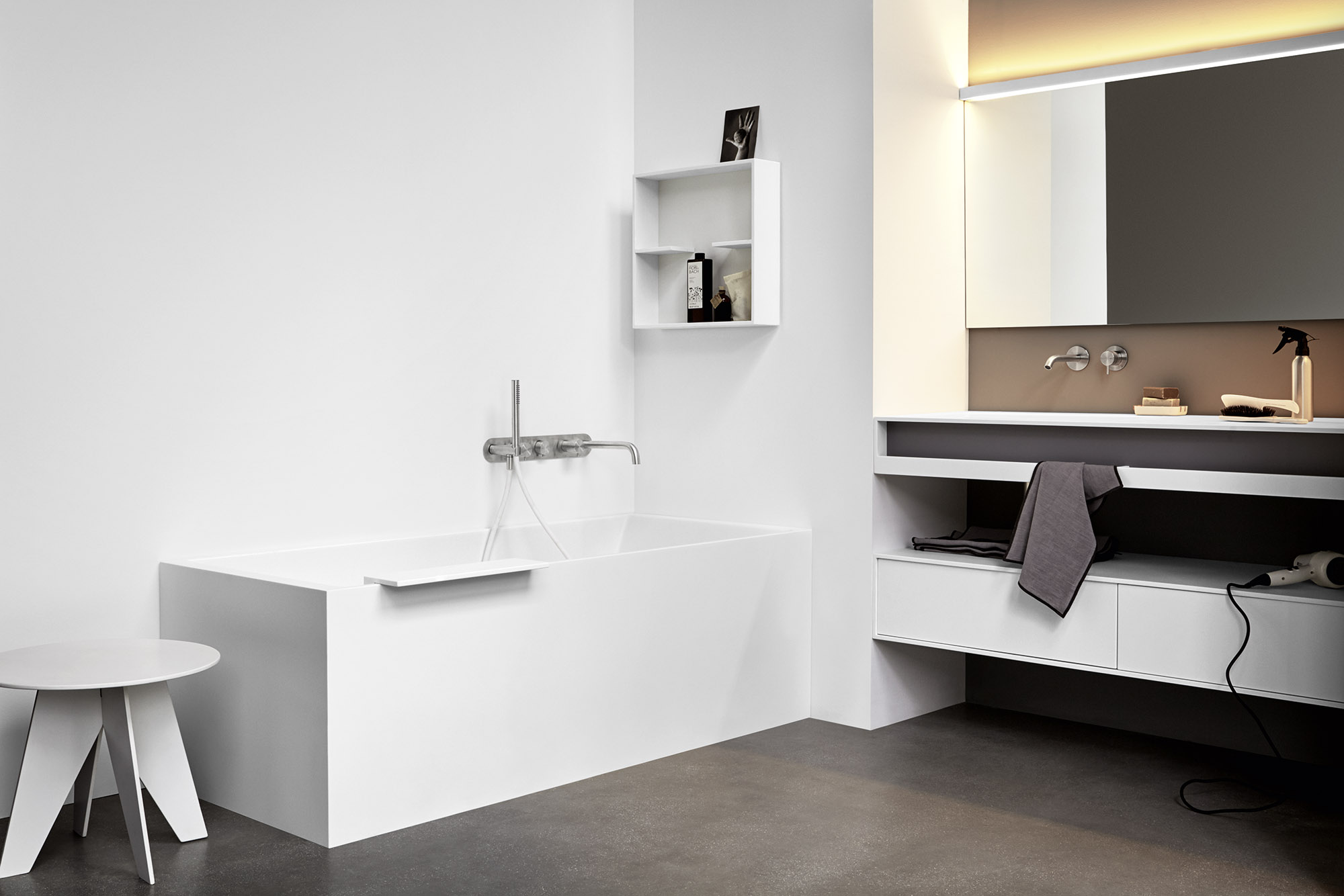 Made of Kaldewei enamelled steel: the strength of the steel and the resistance of the glass are combined creating a material resistant to chemical and thermal stress (thanks to the glass) and very robust and moldable (thanks to steel). This bathtub is available in the right and left version, rectangular in shape. It can be combined with other Kaldewei Meisterstuck products.